This post could go in "Making Stuff"
or
"The Chuckwagon", but given our current membership numbers and the nature of the post, I thought I'd put it here. I may move it later.
I generally hate throwing things away. There are a couple of good reasons for that particular psychosis. That said, I
particularly
hate to throw away the products of my efforts - like plant parts that I have nurtured from seed or cutting.
Mint, in all its various forms, is trivial to root from cuttings, and so I do. Unfortunately, with the exception of the native version, mints don't overwinter here. So come fall, it's time to harvest. Not only are mints easy to cultivate, they're very prolific. Therefore, there's always a surplus of mint 'parts', that...
I hate to throw away
.
I'm always looking for ways to use and preserve the 'fruits' of what I grow. Mostly, with the mint and other herbs, (like sage and rosemary), I just dry them. Given a surplus of dried mint leaves and stems, I decided to see if I could make a reasonable mint tincture. (Tincture is a term for "extraction", but specific to alcohol as the solvent. Initially I used Everclear.
) Since that 'experiment' turned out well, I thought I'd try some other tinctures. (I will soon get around to making a Mint Julep with it.
)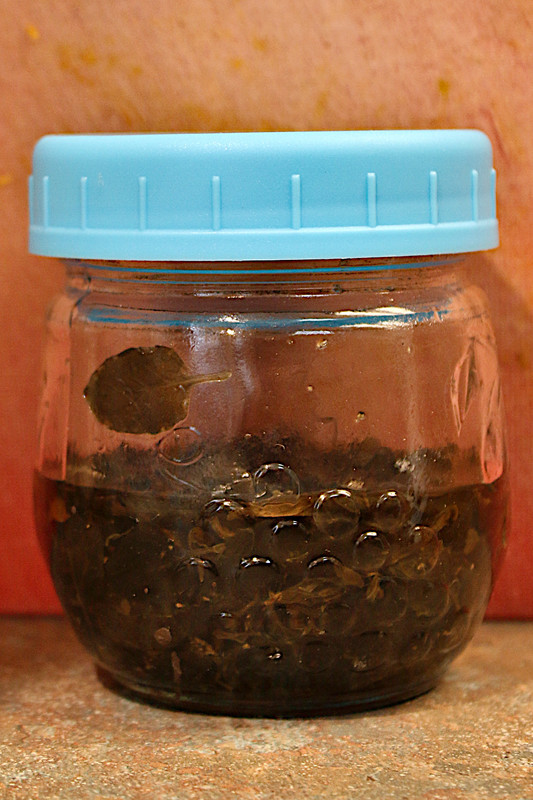 One of the plants I grow enthusiastically is nasturtium. I graze on it all summer long, picking and eating the flowers like berries and using the leaves wherever one would use leaf-lettuce. I thought I'd give it a try as a tincture. However, the leaves and flowers while having similarities in taste, also have differences. I didn't want the leaves to overshadow the subtleties of the flowers. So I separated them and made two tinctures. I'm in the fourth week of what is usually a 6-week endeavor.
The yellow, unsliced leaves: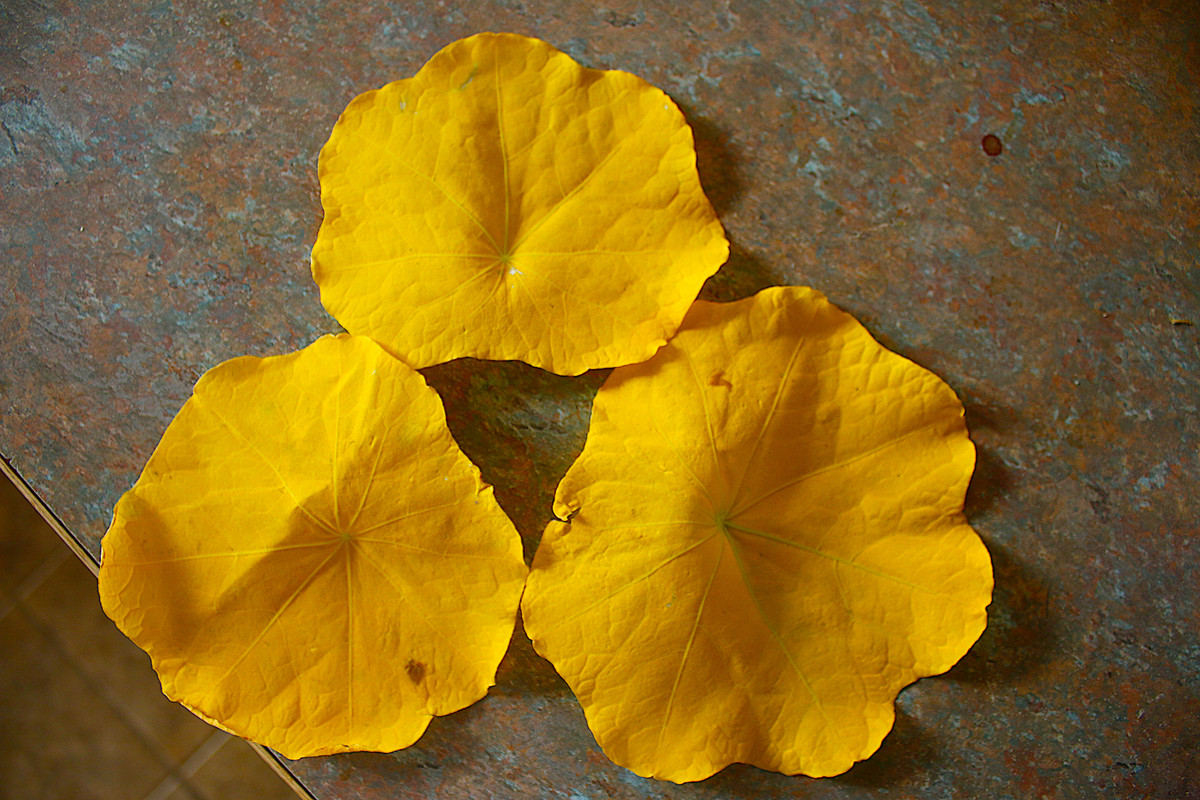 The sliced leaves: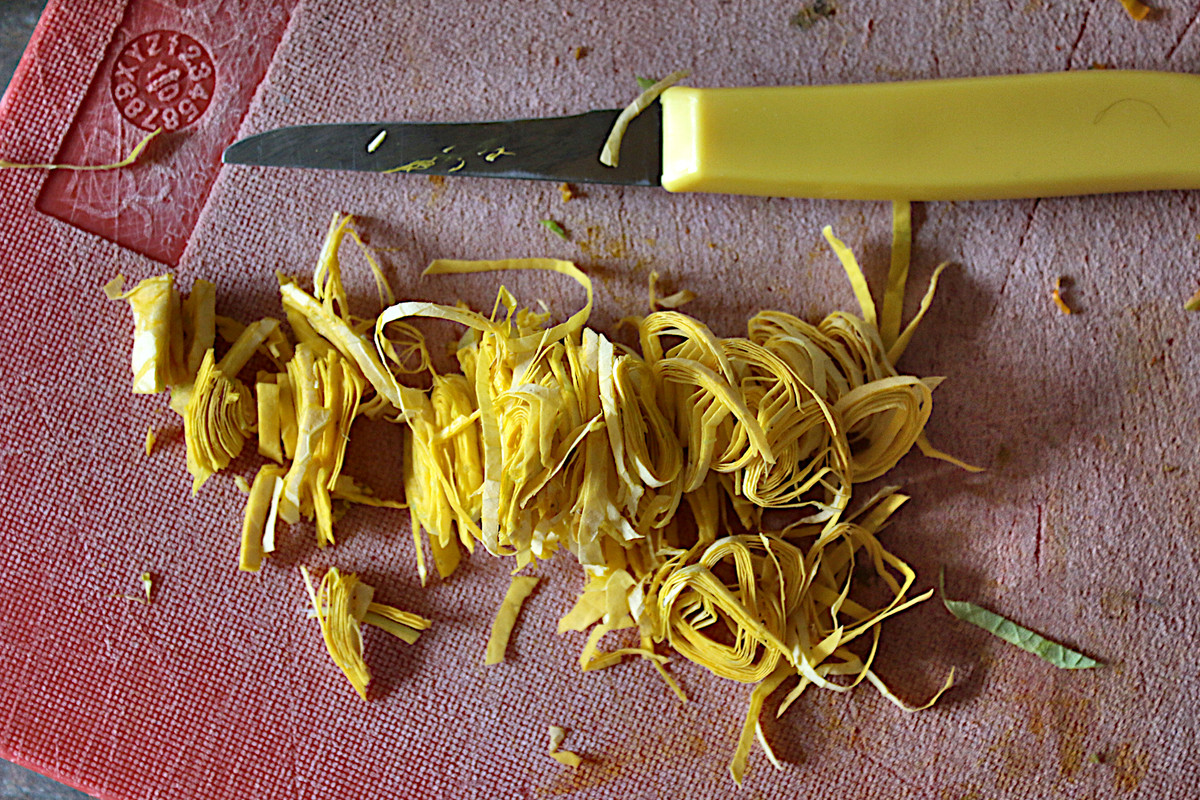 The leaf tincture prep: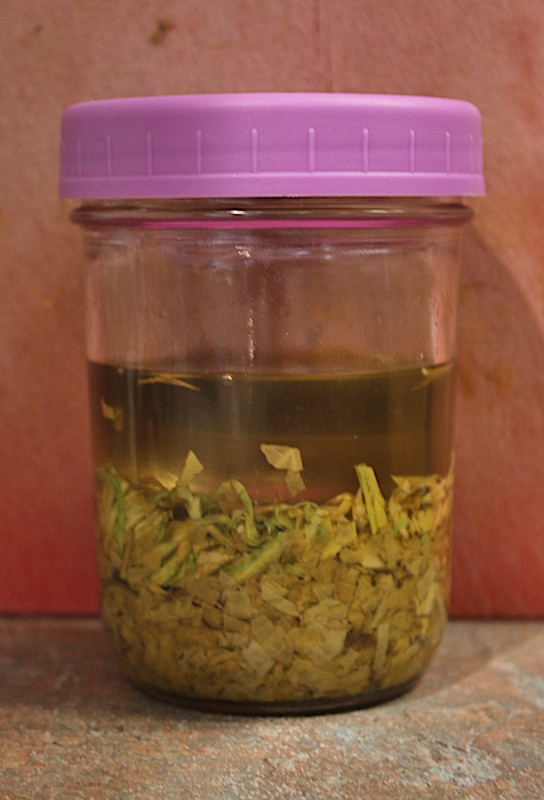 The flower tincture prep: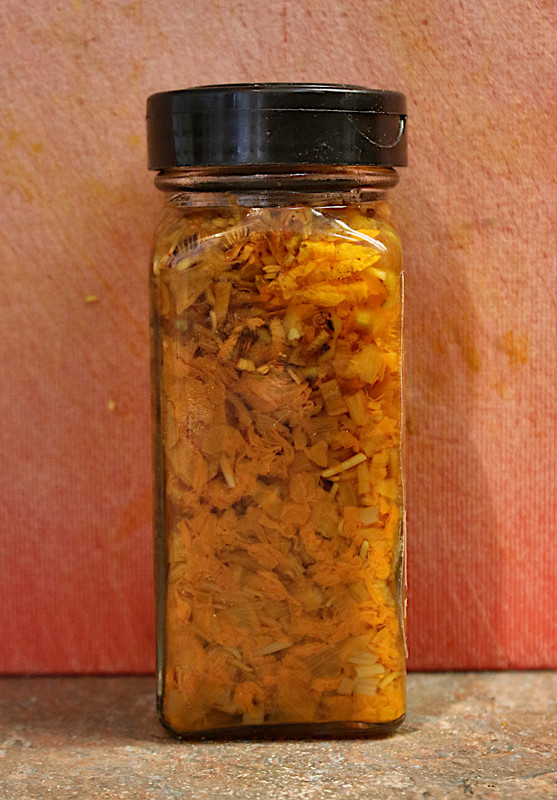 Another plant that I use differently than 'standard' is horseradish. I also use its leaves as a substitute for leaf-lettuce. It has the horseradish flavor without the 'heat'. Thought I'd try a tincture of that one too.
Horseradish leaf tincture prep: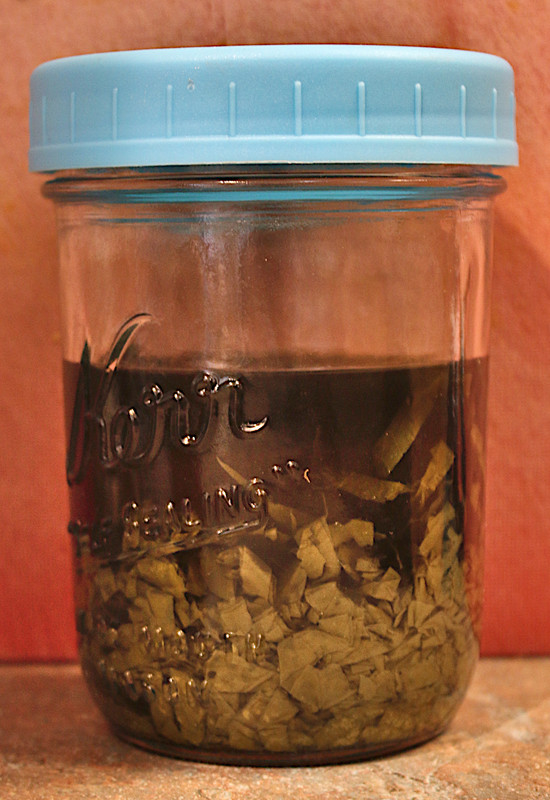 A fruit I really like, but that doesn't grow up here is lemon. (That said, I REALLY dislike lemon on chicken or fish. Yech!) I like candied lemon, but that's a bit 'sweet'. However, I found some recipes for "preserved" lemon. They are cut into quarters and "fermented" (their (incorrect) word, not mine), for anywhere from a few days to 6 months. The lemons are supposed to get better with age. We'll see.
Quartered lemon in a saturated saline solution of water and lemon juice: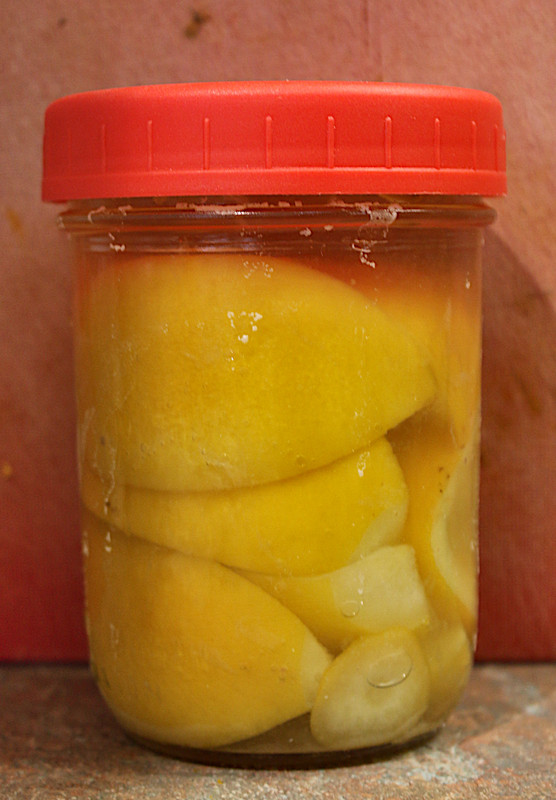 I thought I'd also try tincture of lemon peel. Sue made some lemon pastries, and I used the peels for tincture. Vodka the solvent for this one, as most of the tree-huggers that advocate tincture for curing everything from colds to cancer, eschew Everclear because it's "too alcoholic". Somehow I doubt that.
Lemon peel in vodka: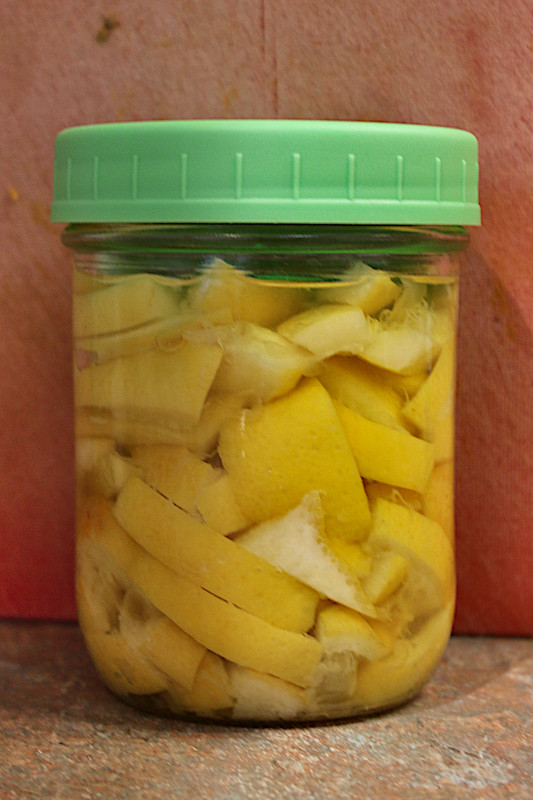 THL member Drinksgin, sent me an armload of kumquats several YEARS ago. (I LOVE kumquats!) I had a double handful of them left that had dried out and were
hard as rocks
, but...
I couldn't bring myself to throw away.
I cut them in half, removed the seeds, and they are soaking in vodka. The liquid, now only a couple of weeks old, looks like syrup and smells VERY good! I think this one is going to be GOOD.
Kumquat tincture prep: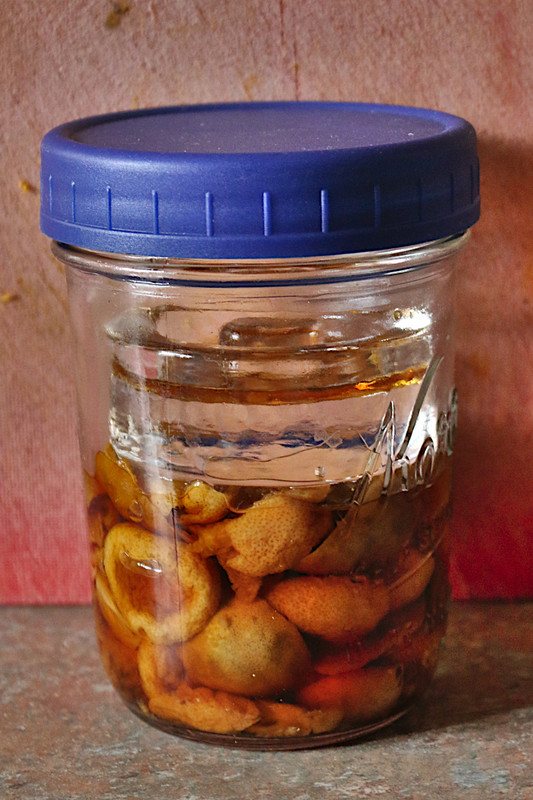 Finally, I had some vanilla 'beans' (actually vanilla orchid seed pods), left over from another 'experiment', and thought I'd make some REAL vanilla "extract". (Truly a tincture since alcohol is the solvent.)
The mint and horseradish leaf tinctures are, naturally, quite green in color. Pretty, but I know that it's due to the chlorophyll in the leaves, not the essential oil. I don't want tincture of chlorophyll. In fact, I really dislike the flavor of chlorophyll. (Tastes like lawn.
) However, I don't have a centrifuge capable of spinning the tincture fast enough, (generating enough "Gs"), to sling the tiny chlorophyll molecules to the bottom of a test tube. (Need minimum of 10,000 rpm to separate chlorophyll. Mine only goes to 5,000.) In the case of the nasturtium, as winter approaches, the leaves, like the leaves of trees, quit producing chlorophyll and only the xanthin and non-chlorophyll colorants and oils are left. So, the tincture is not so green. However, a little chlorophyll goes a LONG way.
Sorry for the skanky pictures, but I'll take better ones when I decant the actual usable tinctures. With a taste-test report too, of course!
Paul